It's time for some pictures of Dominik again especially since he's been sitting around in this outfit since the beginning of December waiting for me to get around to taking them. Poor guy…well, at least he's the patient type. Plus, I can't say that seeing his chest on display these past couple months has been a real hardship. 😉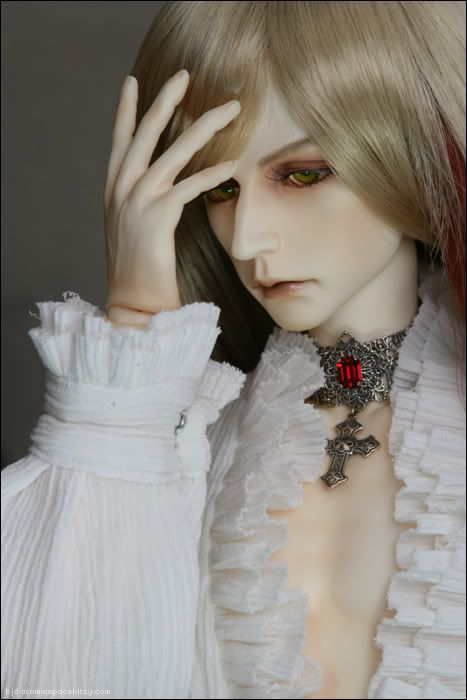 I finally settled on the perfect eyes for Dom. The Dreamy Green Gumdrop eyes really work well with his complexion, I think, and they photograph beautifully.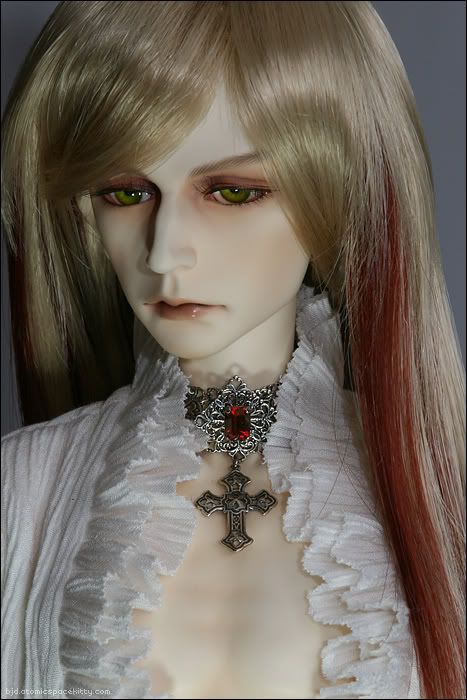 Aren't those eyes great? (Of course I'm biased.) I love how they reflect the light–very life-like.
The wig he's wearing almost ended up in the box of doll stuff that I'm going to sell (one of these days), but I decided to try it on Dominik one more time. He ended up claiming it as his own and refuses to let me sell it now. I love how the carrot streaks compliment his eyes.
Nothing special here (except for a decapitated doll). I just wanted to take a close-up of his shirt.
A picture of most of his outfit. *sigh* I love Dom. I dressed him in a new outfit after yesterday's photo session (my husband said he looks like a hippie…*rollseyes*). Hopefully, I'll get pictures taken of it sooner than I did this outfit.
By the way, the trunk Dom is sitting on is a Muffy Vanderbear trunk. Did anyone else besides me (and my sister and mom) collect these cute bears?
Credits:
shirt: Linabeti/Salina
pants and belt: Unidoll
boots: Heisejinyao
eyes: Ethereal Angels Gumdrops
wig: Kstarr
jewelry: Orangebabydolly (rings) and Brighnasa (choker)