Warning: Doll Nudity
(This happened last Friday the 8th but I've been so busy lately that I haven't had time to post these until now. He arrived in time for my birthday!)
Ever the curious guy, Ethyn is intrigued by a huge box on the dining table. Up until now, all boxes from Korea have been for him (clothes, shoes, wigs, etc.).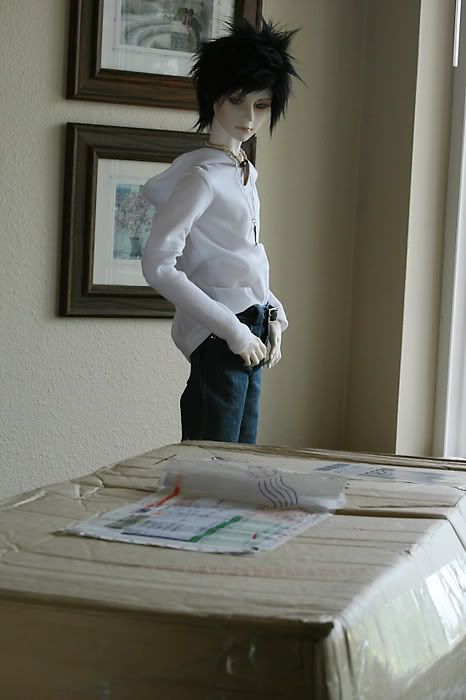 Ethyn: What's this?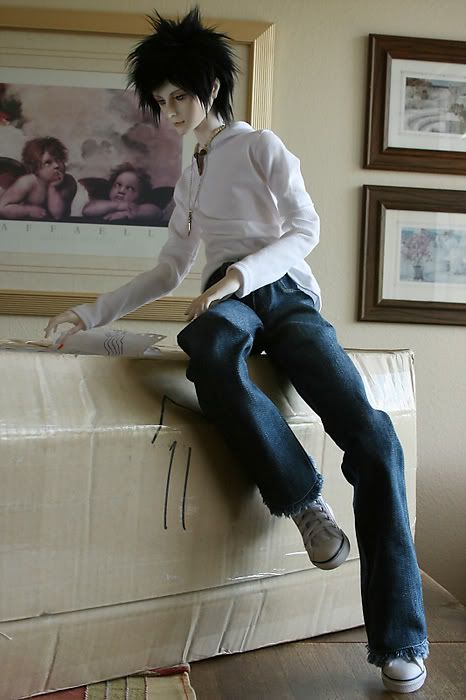 Ethyn: This is the package you've been telling me about, right? The one that's supposed to bring my new friend.
*Ethyn reads the shipping label.*
Ethyn: Well, it's from Korea. So, either it's my friend or you bought me a HUGE wardrobe.
Me: You already have more clothes than me. Don't you have enough?
Ethyn: How many more pictures are you going to take?! You're taking too long.
Me: We have to savor this moment, Ethyn. I did the same thing when you came.
Ethyn: *mumbles* Well, at least it's open now…
Ethyn: Here, let me… It'll go faster if I just do this myself.
Me: I didn't realize you were so excited to get a new friend.
Ethyn: I need someone to help me fend off the cats. Although, I do wish the new doll were a female. It'd be nice to have a girlfriend. Someone to warm my couch…