As for Brandee, I'm considering a Model Doll Ipsae Monahan to represent her. However, I've been considering Model Doll Lisa Rubik as well. Brandee is kind of a hard character to capture in a doll because while I want her to look innocent and naive, and have a fresh beauty, there's also the fact that she's attracted to two guys that both are sexy as hell and have potentially dangerous personalities so I'd like her to be able to be able to exhibit those aspects as well. I mean, just look at that picture to the right, she definitely has a mischievous side and so probably has all those characteristics in her personality (even they haven't all been made apparent in the story yet, although I think the presence of Pirate Brandee may tip you off to Brandee's sexy/dangerous side).
Here are some other pictures of Lisa Rubik with a different face-up: 1, 2, 3. I think this doll is gorgeous too.
And then, here are some more pictures of Ipsae Monahan (the male model in these pictures is a Dollshe Saint. *drool* Another doll that would be nice to have someday): 1, 2 (warning/bonus: doll nipples), 3, 4.
Also, here is a mock-up I did of Ipsae as a brunette so that I could more easily visualize what she'd look like as Brandee: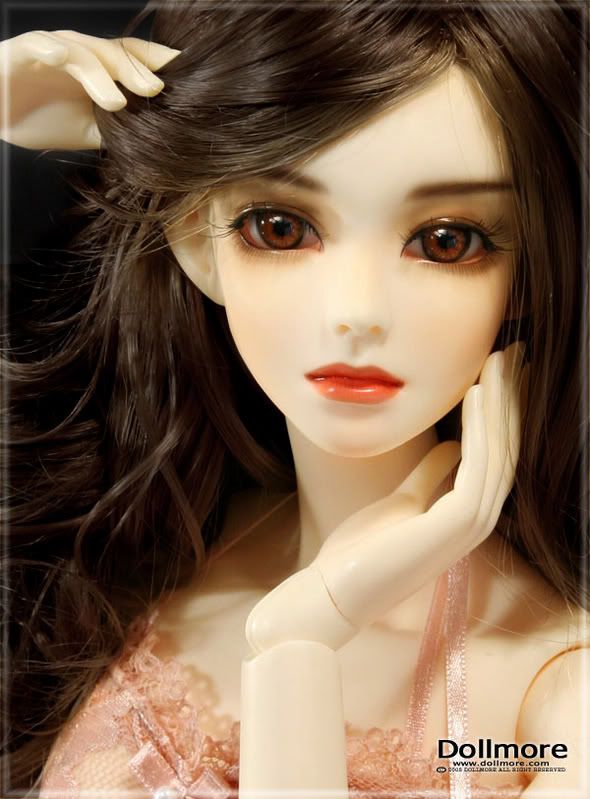 Argh! It's difficult being a Gemini when confronted by decisions like this (since Geminis are known for being fickle). Which one should be Brandee? Lisa or Ipsae?
Well, Lisa keeps tempting me, but I continue to come back to Ipsae. In the end, I think she's the one that can pull off all the looks I want her too: innocent, naive, intriguing, dangerously sexy. I also think that Ipsae looks a little more mature than Lisa, and I'd rather have a more mature-looking doll for Brandee.
If you'd like to see an example of what the Model Doll Ipsae and the IM Hound look like together, take a look here. Yay! I think they look awesome together. Looking at those pictures gets me so excited! I can't wait until I have the completed dolls in my hands. The wait is hard, but it'll be so worth it.
I've already picked out (though have yet to buy) some wigs for Brandee: Jpop Gingers in Darkest Coco, and Kana in Darkest Chocolate. As for her eyes, I'm either going to get the Masterpiece Polymer Eyes in Sable (almost all the way down the page), or Artistique's brown acrylic eyes. I will probably just buy both sets of eyes since they are so cheap and then I can pick whichever pair I like best.
As for whom will be doing her face-up, my dream is to have Lyn of Esthetics by Lyn work on it. She does such lovely female faces.
So, what do you think, guys? Which eyes do you like best for Tahlvin? Which doll do you think Brandee should be?

Pages: 1 2