Warning/Plea: Very long, rambling post, but I'd love your opinions on some things if you have time so I hope you're able to wade through it.
As some of you may have guessed (i.e. amalinaball 😉 ), I'm working on putting together BJDs of Tahlvin and Brandee from Worlds Apart (an urban fantasy story illustrated with pictures taken inside the Sims 2 game).
I already have the body and head for Tahlvin, although they are as yet unpainted/unmodded. He is being based on an IM Hound ("IM" stands for impressive). Although he is a Hound like Ethyn, his face mold has some differences most notably in the scowling brow and the down-turned mouth. To give you some further examples of this doll model, here are some pictures of Yenna's IM Hound. Please note, however, that she sanded off the wrinkles of his brow. I happen to like the scowl though and think it will work well for Tahlvin. And, if ever I don't want him to be scowling, I can hide his forehead with the bangs of his wig.
I'm currently on a waiting list to have Sera of CherryStreet Dolls do his face-up and facial mods. I picked Sera because I fell in love with a Remy LeBeau (Gambit of the X-Men; 5 rows down, middle picture) commission she worked on in the past. I have a lot of mods I want done in addition to his face-up too: elf ears, two earrings in his right ear, hollowed cheeks (to make it look like he has cheek bones), shorter nose and rounder chin. The last two mods (nose and chin) I may attempt to do myself (maybe…I'm a bit nervous about it). As to when this will all be done, I'm not sure. I'm one of the last people on Sera's waiting list (I think there are about 20 people listed before me), so it looks like it won't be until next year sometime. I hope it's before summer though. One thing this hobby has taught me is patience, but I'm not that patient!
For his body mods, I'm hoping to commission Suzy at Switchblade Aesthetics as she does some awesome tattoo work, and where would Tahlvin be without his tatts? I'd also like to have her add some scarring to his forearms and chest, paint his fingernails black, and blush his torso, hands and feet.
It hasn't arrived yet, but I've already ordered his wig. I think it's a fairly close match to his in-game hair. However, I'm having a bit of trouble picking out his eyes.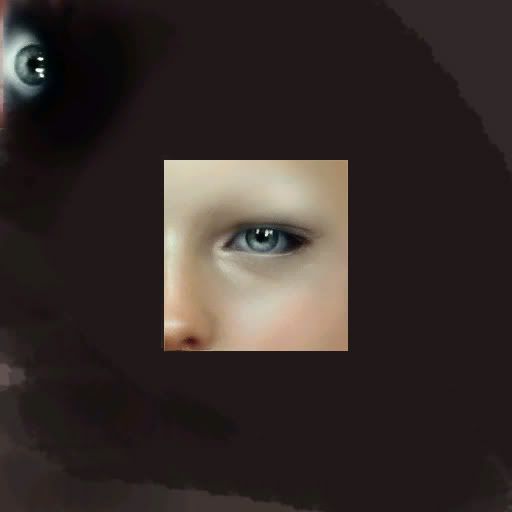 The above are the eyes he wears in the Sims 2 game—Enayla's cloud eyes. They look grey with perhaps a tint of blue; however, in the game and in in-game pictures, they look light blue to me. So far, I've narrowed my choices down to: Masterpiece Eyes in Dresden or Frisco Bay, or Gumdrop Eyes in Blue Danube or Stormy Blue. What do you think?
Pages: 1 2